Back to "Henna How To" Instructions

Mauritanian Henna Design Resource Page
We would like to thank our Mauritanian friend, who wants to be known here simply as her Instagram username of mauritanienne (follow her!), for her permission to use these beautiful photos from her collection.

Here are some of mauritanienne's photos:
Books on Mauritanian Henna:
The #1 book on Mauritanian henna:
Le henné art des femmes de Mauritanie, TAUZIN Aline, Ed. Unesco-IBIS-PRESS, 1998
(out of print & hard to find; visit us to view our copy)
Petites commercantes de mauritanie. voiles, perles et henne - Gisèle Simard
on the small businesses that Mauritanian women run, including henna

Mauritania - henna design book by Heather Caunt-Nulton
featuring a design guide, drawings of traditional Mauritanian designs, plus unique fusion designs
Links to other websites where you can find original images of Mauritanian henna designs:
(these are done in Mauritania, by Mauritanian artists... not reproductions by other artists elsewhere in the world)
each link is listed with the main page first, then links to henna images of interest below:

Canadian website on henna that includes a full explanation and photos of Mauritanian tape resist process :

French blog documenting a trip to Mauritania:

Blog featuring Fatimata, Mauritanian henna artist, at work: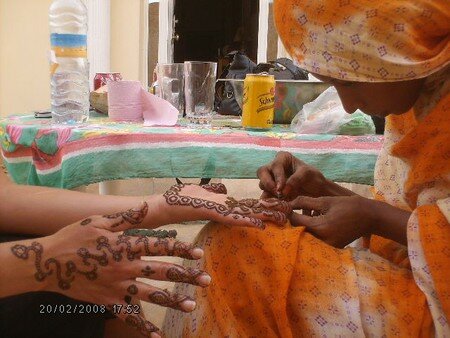 Mauritanian woman applying henna to the feet:


By Magharebia [CC-BY-2.0 (http://creativecommons.org/licenses/by/2.0)], via Wikimedia Commons

By Ji-Elle (Own work) [GFDL (http://www.gnu.org/copyleft/fdl.html) or CC-BY-SA-3.0-2.5-2.0-1.0 (http://creativecommons.org/licenses/by-sa/3.0)], via Wikimedia Commons

Girls with traditional henna tattoos, Mauritania © Finbarr O'Reilly / Reuters
Here are links to where you can find artwork showcasing the Mauritanian style done by artists across the globe:
Heather's Gallery of Mauritanian Style Henna - coming soon


if you have a gallery of specifically Mauritanian style henna that you would like featured here, please contact us to send us the link!
si vous avez une galerie de henné spécifiquement le style mauritanien, s'il vous plaît nous contacter pour nous envoyer le lien!
إذا كان لديك معرض الحناء على وجه التحديد نمط الموريتانية، يرجى الاتصال بنا لترسل لنا الرابط!